Issue 6 | What Does a Pandemic Look Like on Sunday Mornings? This.
A comic, N.T. Wright and Nietzsche, the work of Harold Evans, and more.
Good afternoon, y'all. And happy October.
Here are five things I've been doing lately:
Writing a comic (only kind of);

Talking with N.T. Wright about truth and power;

Trying not to say 'unbelievable';

Celebrating the work of Harold Evans; and

Reading Marilyn McEntyre and Jonathan Sacks.
---
1. What does a pandemic look like on Sunday mornings? This.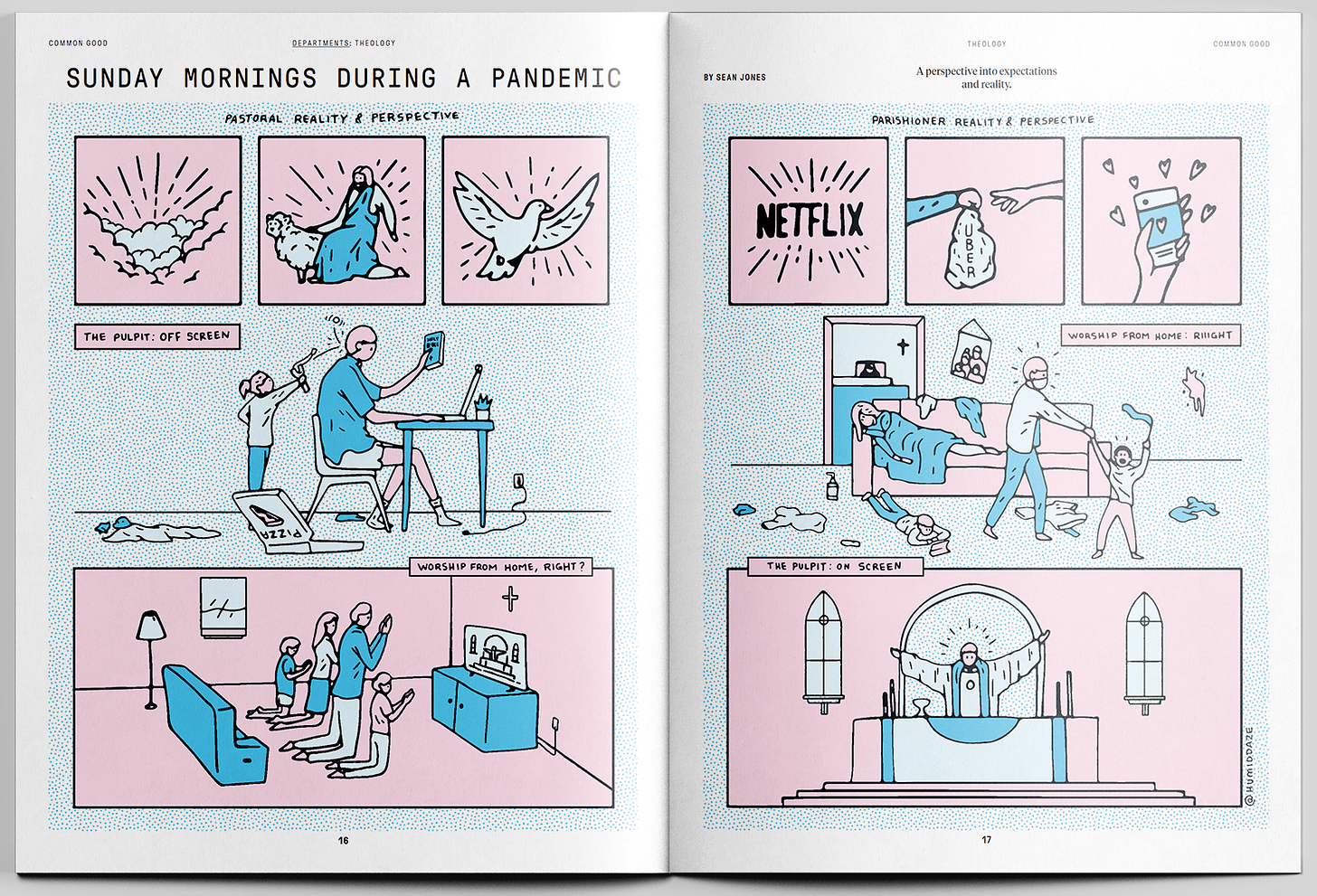 Pure art by Sean Jones, published in Common Good issue 4. Words — all 22 of them! — by me.
---
2. N.T. Wright: Don't leave the 'world at the mercy of the Nietzchean power brokers.'
Last week, I talked with the good bishop, in part, about his newest book. In Broken Signposts, Wright names threads in every culture that reveal dysfunction, indicators as he sees them of a fractured world. Two of those are truth and power. You know as well as I that truth and power can seem not only disunified but antithetical in our culture. In the course of our conversation, Wright made clear that thinks he thinks it's worse than that: He says "so much western Christianity" has left "the world at the mercy of the Nietzschean power brokers" by backing away from truth as an objective, tangible thing. We chased the question of what it looks like for truth and power to work cohesively, despite how improbably that seems in our moment. Here's one of his responses:
Our political realities on both sides of the Atlantic are such, at the moment, as to make that [conflict between truth and power] particularly acute. If Friedrich Nietzsche were alive today, he would be saying, Told you so: That truth claims turn into power claims. That people who tell you, "We're just telling you the truth," are the people of whom you should be instantly suspicious. But that's where the New Testament reconfiguration of truth and power comes in. …

In the long run, the power of God is exercised through the meek and the mourners and the hungry-for-justice people. … And at that point, we have moved truth and power to mesh together within the vision of new creation.
Next month, I should be able to share our full conversation.
---
3. More writing advice: Stop just describing your own mental limitations.
Last month, right in this newsletter, I detailed a fairly technical writing strategy I learned from a fairly technical writing book. And something weird happened: Y'all sent exuberant feedback, more than any newsletter item so far. So here's more, you nerds.
I assume this observation isn't original to Arthur Plotnik, but I found it in his fast and fastly useful book, Spunk and Bite. On page 16, in a chapter about expression, you find an aside that has haunted my writing and talking since I read it. He writes:
Reaching for extremes, nonwriters (or lazy writers) fall back on the vacubilary of disbelief: 'It was just … incredible. I mean, unbelievable. Absolutely mind-boggling." Such terms may define the borders of one's credulity; unfortunately, they fail to distinguish the Piazza San Marco from a piece a'pizza.
This seems easy enough, right? If you want to describe something, describe it. Don't just tell your readers about your inability to conceive of the something. But I workshopped this idea at a writer's conference back in February, and we all struggled to replace words like amazing and unbelievable with meaningful descriptions. This isn't easy at all.
Try it. Take a day and exchange language of disbelief for language about the thing you're talking about. You won't believe how difficult it is.
---
4. A giant has fallen in the kingdom of ink and paper.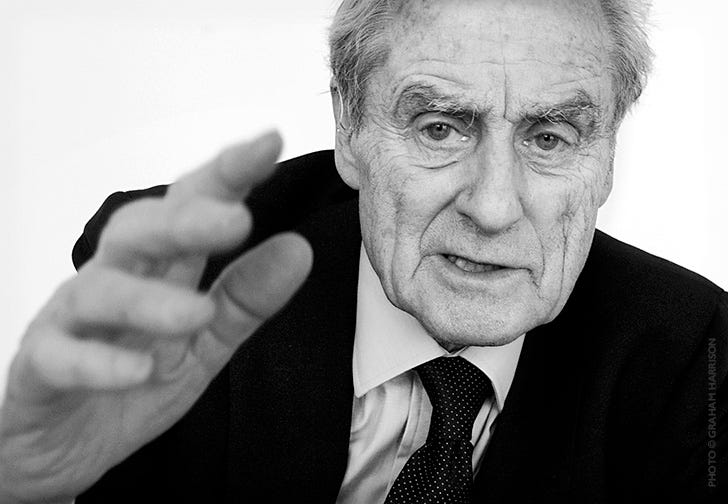 When Sir Harold Evans's book about writing came out in 2017, I read it. Well, I read some of it. But after his death a couple of weeks ago, I picked up Do I Make Myself Clear? again. It feels like him, from the comic epigraphs to the writers he engages to his D.C.-filtered illustrations. These mix an enjoyable cocktail, fun to read and helpful at many points.
But at first, the book's subtitle, "why writing well matters," bothered me. Like, who thinks good writing doesn't matter, at least among the probable audience for this kind of book? After reading more, though, and reading a handful of obituaries and reflections on Evans's work, the idea seems clear. It points to the telos of a man who — certainly along with his wife, Tina Brown — legitimately changed the writing and publishing landscape on two continents. And not only in the glitzy, '80s way we associate with the culture animated by Evans and Brown. But by a conviction about readers and the accessibility of important information.
On a press tour in '09, Evans spoke prescient words to NPR about two swelling threats to journalism — threats to trustworthy information for communities large and small. He said:
I think a certain commitment to the public good has vanished in the race for circulation. I think that is accentuated when you get newspapers taken over, as you have across America, by people who either borrow extensively to buy the paper, or never had any interest in what real journalism is about in the first place.

…

When newspapers or TV neglect reporting, so you get chunks of opinion without any factual basis whatsoever, we're all going to suffer for it.
Sure enough, we're all suffering for it.
Photo credit.
---
5. Here's (some of) what I've been reading.
Caring for Words in a Culture of Lies. I've been dropping in and out of this one since, I guess, about June. I highly recommend reading it and reading it slowly. McEntyre's are words to digest. For example:

This is a necessary and urgent activeism: to resist ''newsspeak," to insist on precision and clarity, to love the bald statement, the long sentence, the particular example, the extended definition, the specifics of story, and the legacy of language we carry in our pocket Bibles and on the shelf with Shakespeare. We are stewards of the teasures that have been put into our keeping.

Morality. Many of the spaces we inhabit face real crises of character, as you know. The country, from high places to low. My faith tradition. And books like this one make up welcome calls for the kind of morality required for a society to function. Sacks's book came as a recommendation at a time when I've been thinking a lot about The Theory of Moral Sentiments, about how Adam Smith wrote it well before he wrote The Wealth of Nations, and about what that means, and if it's sufficient, for mending social fabric.

Do I Make Myself Clear? We just talked about this, remember?
And speaking of readerly things, today starts the Southern Festival of Books. Kind of. Hannah grew up going with her grandmother, a tradition they maintained well into Hannah's adulthood, and now she takes our girls and me. This year, the multi-day, sprawling festival that normally fills downtown Nashville with food trucks, tables of books, and tents of vendors will happen on laptops. It's another part of life lost to the pandemic, one that highlights the utter inadequacy of "digital experiences" that suffocate our world into a makeshift YouTube channel.
Still, the pandemic version features some interesting stuff, none more than tonight's talk between Ann Patchett and Yaa Gyasi.
---
Bonus: Ellen, all in on Minshew Mania.