Issue 5 | John M. Perkins Reflects on Death and Life.
A conversation with a Civil Rights hero, advice for sentences, Haim, and more.
Good afternoon, y'all.
We're smack in the middle of the dog days. But with election stuff in full swing, football kicking off, and schools kind of, sort of starting back, it feels like Autumn's tottering toward us. If only the weather would catch up.
Here are five things I've been doing lately:
Talking with John M. Perkins;

Listening to Haim;

Reordering sentences;

Staring at a magazine illustration; and

Reading Francisco Cantú and A.O. Scott.
---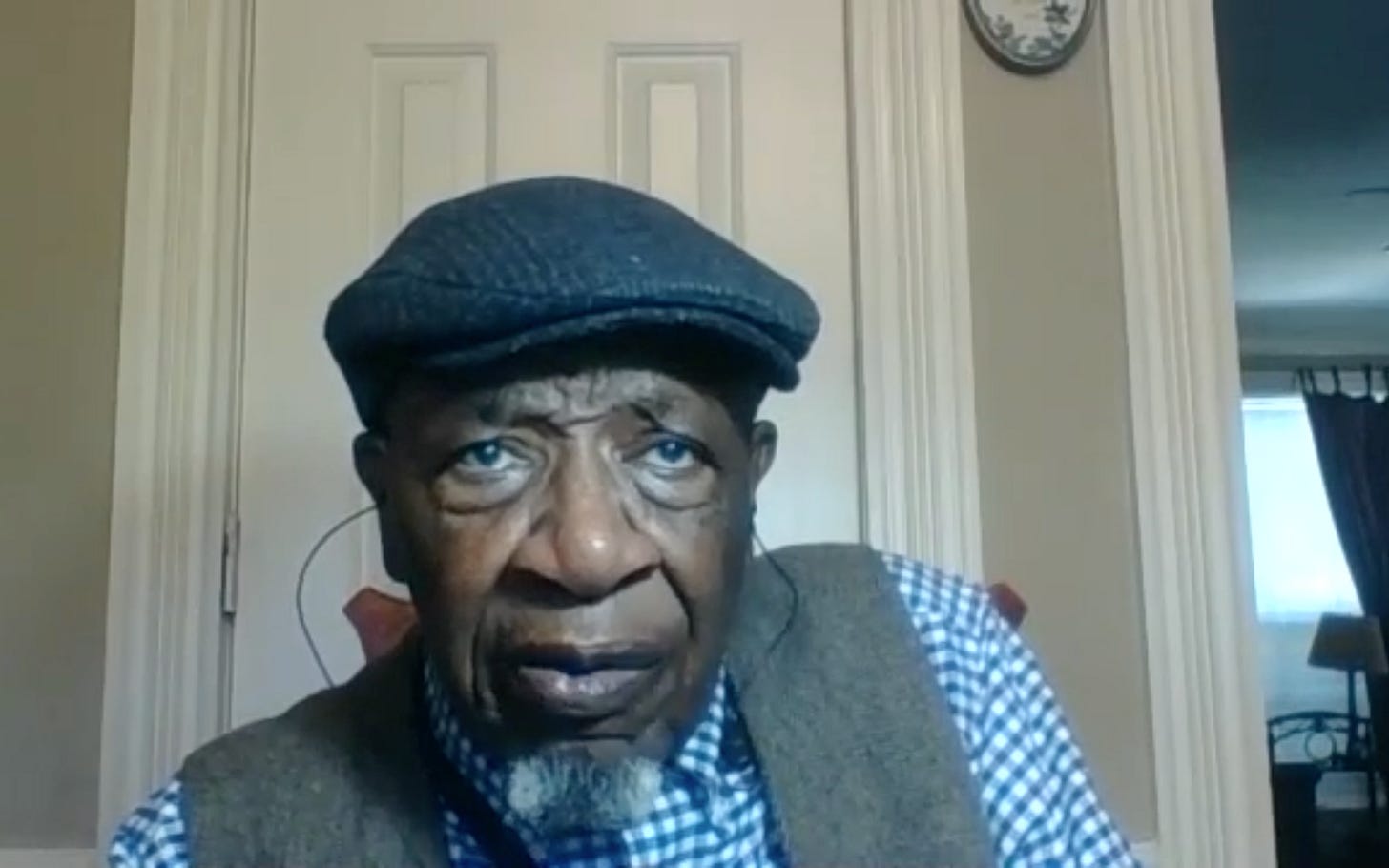 1. John M. Perkins reflects on death and life.
For several months now, I've been working on a feature package about the work experiences of Black Americans throughout our country's history. As part of that, I've talked a few times with the inimitable John M. Perkins. The final form of these talks will go in a different direction, but this one part is worth reading on its own.
During our most recent talk — in mid-August, a Zoom from which I screengrabbed the picture above — in the middle of a kaleidoscopic conversation, Mr. Perkins jumped into a striking pericope about his mother's tragic death, what it meant for him, and what it means as he nears the end of his own life. It's honest and moving and vulnerable and almost entirely unique for this kind of conversation.
He said:
My mother died of starvation, nutrition deficiency when I was seven months old. We didn't have a milk cow because they wouldn't let us, the sharecroppers, have a cow. It would use up too much of the ground per acre for a cow; we were supposed to farm that land and plant corn on it. [My mother] was down to skin and bones, then she died. One lady came by my house and saw my grandmother nurturing back this baby. Well, she had a milk cow and she brought that milk for me to drink. They'd tell me, "Just lay there now."

My mother died and I lived. That gave me some purpose in life. I'm not walking around without purpose. That's where I get my work ethic.

I'm going to see her in a few weeks or a few months. She doesn't care about the fact that I got 16 honorary doctorate degrees. She's going to ask me what I did for people like her. It doesn't take much for me to believe that, because I'm going to die. I'm 90. But what a life I've had, what a life I've had. Oh, Lord. There ought to be some gratitude in this: She died, I lived. What did you do for people like that?
I edited the above for clarity. This project — which includes essays and interviews on Black work during the periods of slavery, Jim Crow, Civil Rights, and today — will come out in late October.
---
2. I'm all of a sudden a fan of Haim.
I know, I know, I'm arriving in reverse order. The first album everyone geeked out about, Days Are Gone, did nothing for me. Then I liked a few songs from Something To Tell You, and now Vampire Weekend's Father of the Bride, which is functionally a collaboration with Danielle Haim, plays in our home at least once a week. And now I'm really enjoying Haim's third outing.
Here's the first track, "Los Angeles":
---
3. To write clearer, order your sentences from the familiar to the new.
*If you don't nerd out on writing, just go ahead and skip this section. It's about to get real technical.*
Since we returned from Florida, my writing time has looked different. I've mainly done revisions for, ahem, a forthcoming effort. At the same time, I've been helping a friend in advertising rework some TV voiceovers to make sure the writing isn't only clever but clear. Whenever I approach something like this, my first move is to make sure each sentence opens with something familiar and concludes with new (or stylized) information. Maybe that's an obvious move to you, but, to me, it's been a huge help. This strategy is one I learned from Joseph Williams's Style: Toward Clarity and Grace (which, for what it's worth, I think is the most helpful advanced writing book on the market, bar none). The idea is to keep your readers moving through a composition without feeling confused. And without feeling like they're reading bullet points. The idea is cohesion.
Here's a bit from Williams about "managing the flow of information":
The problem—and the challenge—of English prose is that, with every sentence we write, we have to strike the best compromise between the principles of local clarity and directness that we discussed in Chapter 2, and the principles of cohesion that fuse separate sentences into a whole discourse. But in that compromise, we must give priority to those features of style that make our discourse seem cohesive, those features that help the reader organize separate sentences into a single, unified whole.

We've illustrated two complementary principles of cohesion. One of them is this:

Put at the beginning of a sentence those ideas that you have already mentioned, referred to, or implied, or concepts that you can reasonably assume your reader is already familiar with, and will readily recognize.

The other principle is this:

Put at the end of your sentence the newest, the most surprising, the most significant information: information that you want to stress—perhaps the information that you will expand on in your next sentence.

As you begin a sentence, you have to prepare your readers for new and therefore important information. Give your readers a familiar context to help them move from the more familiar to the less familiar, from the known to the unknown.
---
4. When
they talk
about editorial
je ne sais quoi
, this is what they mean.
This drawing appears in one of the publications I help execute. And it's perfect. I've been doing print publications for longer than a decade now, and this is probably my favorite illustration with which I've worked. Seriously, I've been talking about it with anyone I can. The palette evokes a classroom. The screens are crisp with just enough detail. The idea is clear, but not predictable. Incredible.
Actually, you've probably already seen the work of the endlessly talented Italian artist, Simone Massoni. I've been a fan of his for a while and now even more so that I've gotten to work with him.
---
5. Here's (some of) what I've been reading.
The Line Becomes a River. Last year, I read Blood Meridian, and reading The Line Becomes a River feels a lot like revisiting that terrain, both its wildness and brutality. I've got some qualms, but Cantú's approach is intriguing, and I'm all about his effort to humanize both sides of the border dispute. Interestingly, there's also some parallel between his structure and that of Gilead, which I mentioned last month.

"The Americans." Times critic A.O. Scott's series of essays on American writers represents one of the bright spots of the lockdown. As you probably know, so far he's written fascinating pieces about Wallace Stegner and, most recently, Edward P. Jones. I'm intrigued by both. Stegner for his depictions of marital commitment, and Jones for his deep-dive tours of Washington D.C.

An aside: I've always loved the capital city. My dad's favorite painting, William Harnett's The Old Violin, hangs in the National Gallery, and we visited it several times when I was growing up. And if you and I have ever talked food, you know I think one of America's best restaurants sits right by the Navy Memorial: Oyamel.

Thrill Me. Benjamin Percy is not an author I would normally encounter. But these writings about fiction and the blurry line between literary and genre are a ton of fun.
---
Bonus: Here's a dad-take on the lamest Disney princess.
I'm pretty sure this is my first newsletter that doesn't include something dad-related. I'm not sure that's an essential ingredient, but here's a take in case y'all are just here for the dad stuff.
Disney's Snow White is just awful. After watching it with my daughters, I'm scandalized that people think it's iconic and that the dwarfs dominate Disney's sweatshirt game. It's so long and so slow and so bizarre that Snow White's seven, adult male roommates above-ground bury her in a glass casket. And where does the prince come from and does a prince willing to kiss a corpse he finds in the woods really deserve a role in children's film?
Granted, you're still better off watching Snow White than any Avengers movie.