Issue 7 | *The* Topic of Conversation Among My Christian Peers? Faith and Political Power.
C.S. Lewis at the Strand, work in the Black experience, pork butt, and more.
Good afternoon, y'all. And happy November. It's finally happening, we're almost done with 2020 and we're approaching my favorite holiday. You can trust that whatever else happens, on November 26, I will be smoking a pork butt for 12 to 15 hours and it will be better than whatever aggressively average turkey shrugged onto most American tables.
And something is going on tomorrow, isn't it?
Here are five things I've been doing lately:
Writing about the election;

Buying books at the Strand;

Editing testimonies of Black work in America (and can I just give you a copy?);

Rolling my eyes at relevant art; and

Reading Wendell Berry, The Relational Soul, and more.
---
1.
The
topic of conversation among my Christian peers? Faith and political power.
I extracted this passage from a larger project I'm working on. It's about political cultures that shaped the Christianity of my childhood and that continue to shape it now. It's only a passage, but it touches my view of politics and culture. Which seems relevant.
Politics, said the conservative journalist Andrew Breitbart, sits downstream from culture. His idea, which you'll hear floating all around the thinkier evangelical circles, means that politics can't shape who we are. Politics reflects who we are. If that's true, and it seems demonstrably true to me, then evangelical political support for any candidate has less to do with a plan for our country and more about the state of our movement.

And there's little doubt that American evangelicals face a crisis, a reckoning both cultural and spiritual. Cultural wars and self-help platitudes have bedeviled the movement for the last decade. In recent years, as dozens of the highest-profile pastors and churches have fallen to sex- and authority-abuse scandals, the movement seems to be deteriorating actively. Then add that those of us who grew up in evangelical spaces are watching many of our "faith leaders" ignore their own professions in exchange for political and social posturing.

Even if these stories are PR problems for some. Bad press. For nearly every Christian I know, these are the topic of conversation. And it's a desperate conversation about nurturing a healthier movement for ourselves and our families.

This is the question facing all evangelical Christians right now. In light of a deluge of moral crises, what do we do now? The answer to this looks differently for each of us, and so long as we're taking seriously the Christian teaching to love our neighbors as ourselves, we're welcome to disagree about what that looks like. Really, it's probably better for us if we do.
When it comes to politics, that's why you find devoutly Christian Democrats, devoutly Christian Republicans, and devoutly everything in between. For now, whether you're a Christian or not, vote your conscience tomorrow.
And don't forget how much life exists beyond the next 48 months.
---
2. Surprised by the Strand. No? Sorry.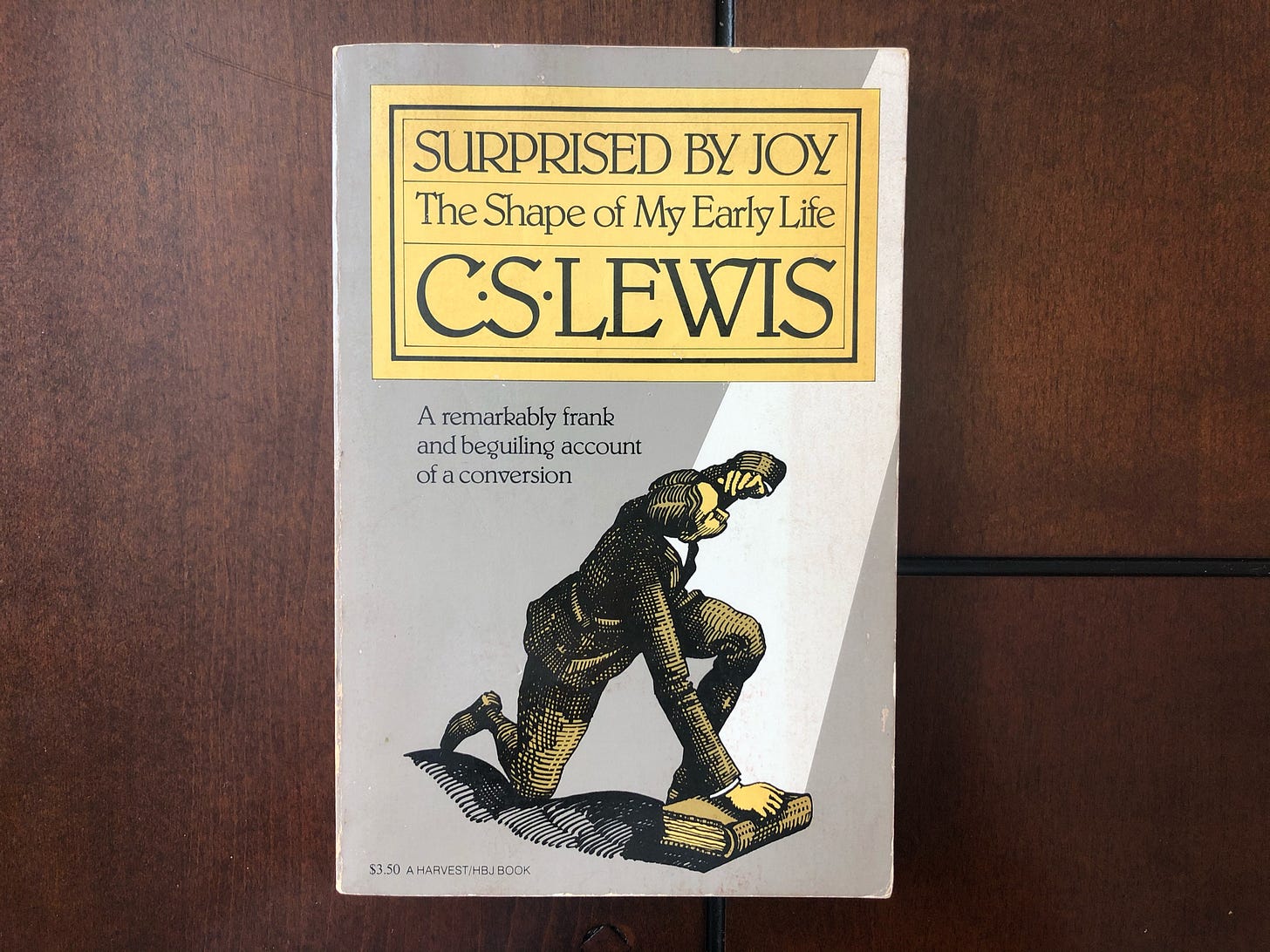 You probably heard last week about the thing at the Strand, about how the bookstore's owner gave a public plea for help, and how New Yorkers showed up in droves. As it happens, Hannah and I were there on the same day, doing our part to keep indie bookstores going. You're welcome.
We bought a basketful, of course. But none as interesting as this first edition of C.S. Lewis's Surprised By Joy. If you've read this one, you know it's sort of an odd book. Autobiographical, but not exactly an autobiography. Lewis's accounts of childhood are tragic and moving. But some of the later parts, despite the cover copy, seem aloof, at least compared to the nakedness of A Grief Observed. Anyway, about a year ago Surprised By Joy was a near-daily part of my life as I read the book probably three times while I was working on some writing about the intertwining work (and lives) of Lewis, G.K. Chesterton, and Dorothy Sayers. It's cool to have a first edition.
---
3.
📬 Can I just give you a copy of the new
Common Good
? 📭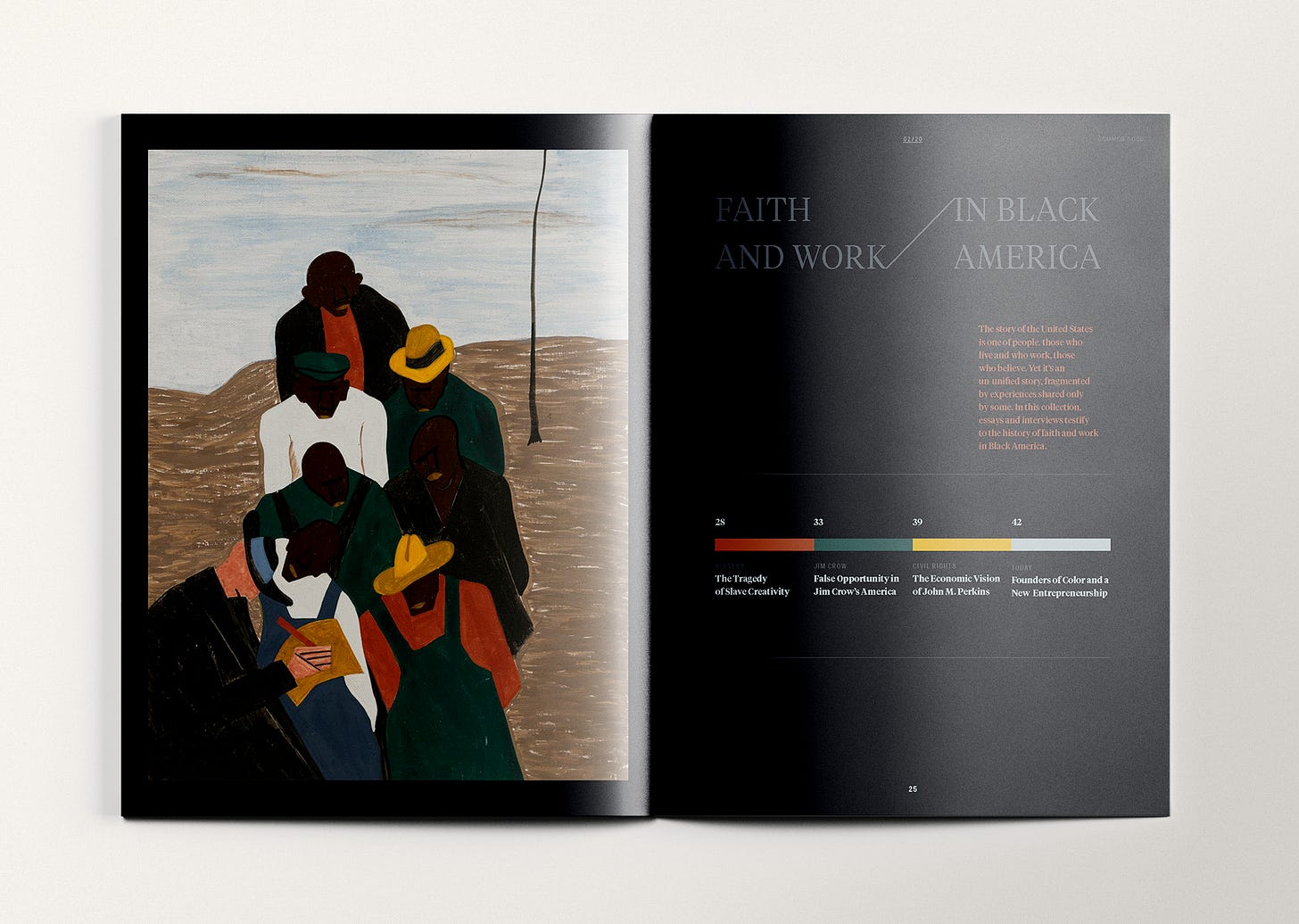 The idea to collect essays and interviews testifying to the history of faith and work in Black America started last year, and I initiated the editorial work well before the killings of George Floyd and Breonna Taylor and our country's reignited conversations about race in the broader American experience. All of this played out while I was talking with writers and interview subjects, trading drafts, and all of the things you do with a long-lead feature package, which I think peeks through in some ways. But I don't want immediacy to get in the way of voices that deserve more attention, issues that deserve more reflection, than a news cycle.
Here's a breakdown of the project "Faith and Work in Black America" in issue of five of Common Good: We've got four main pieces corresponding to four eras in our history:
A essay: "Phillys Wheatley and the Tragedy of Enslaved Creativity";

A piece of research-driven reporting: "The False Opportunity and Real Hope in Jim Crow's America";

A first-person account: "The Deep-South, West-Coast Economic Vision of John M. Perkins"; and

An interview: "Can There Be a New Golden Age of Black Entrepreneurship?"
We weave in interviews with Trillia Newbell, about her experience in ministry settings, and with Michael O. Emerson, looking back on his research in Divided By Faith after 20 years, too.
To illustrate the package, we licensed paintings by Jacob Lawrence, two of which are part of his 60-piece Migration series. See?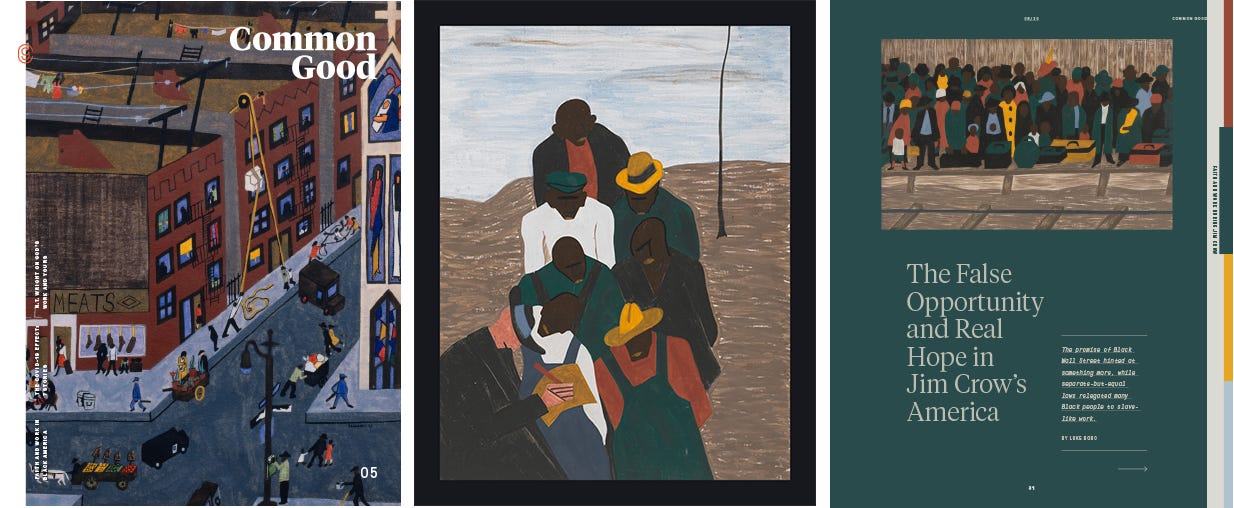 Can I just give you a copy?
I have 25 copies I've set aside to give away. I'd be happy to send you one, if you're interested. Just reply to me with a mailing address and, if you're one of the first 25, I'll send one along.
---
4. What (and when) does art mean?
Were I smarter and more articulate, I'd have written this essay, "Making Meaning," in Harper's about what (and when) art means. Alas, I didn't and Garth Greenwell did. The piece captures a lot of my thinking about the nonsensical (and Twitter-driven) pull toward urgency in creative work.
Here's my favorite paragraph:
I can't bear the thought that art is a zero-sum game, that we have to choose which kinds of stories are relevant, which lives have value; I can't bear the thought that works of art exist only at the expense of other works of art, that books are locked in some ferocious competition for space. Maybe there is virtue in rejecting any reality construed along these lines; maybe there are certain choices that so deform our character that no claim of necessity can justify them. Besides, the rhetoric of scarcity often turns out to be exaggerated. Our time and attention might be more like the loaves and fishes than we think. After all, we could always cancel our Netflix subscriptions; we could always delete our Twitter accounts.
---
5. Here's (some of) what I've been reading.
That Distant Land. A few months and like an eternity ago, I started reading through this collection of stories from Wendell Berry. Then, somewhere in the hustle of the lockdown, I set it down and forgot about it until last week. You'll hear some people recommend That Distant Land as an entry point, an amuse-bouche, to Berry's fiction. I disagree, though. I'm enjoying these stories enough. But it feels like I'm enjoying them because I already understand them, and I've already learned the patience demanded in order to read about the people of Port William. I'm just not sure I'd keep reading without the muscle memory built up from previous jaunts with the Catletts and the Coulters and everyone else.

The Relational Soul. October, I guess, was a month for me to keep trekking through books I already started. Because what I said about remembering That Distant Land applies just about the same to The Relational Soul. You'll notice that this isn't the kind of book I typically mention here. It's not literary, and though it's thoroughly theological and psychological, I bet the publishing category is self-help or personal growth. But you should know about it, and if you're up for some intense internal work, read it for yourself. The Relational Soul, more or less, is about how our families of origin shape the ways we relate to those around us, how different emotional attachment patterns play out into adulthood. About what to do about unhealthy patterns.

Good Prose. I read this book once through back when it came out. It's worth rereading, trust me.
---
Enjoy your Thanksgivings, people. Even this year, there's much for which to be thankful.