Issue 2 | Can We Celebrate Parts of the Lockdown?
A confession amid pandemic fallout, reading Marilynne Robinson with Dr. Seuss, and more.
Good afternoon, y'all.
Well, we made it to summer, even if "made it" comes with a handful of qualifications. Here are five things I've been doing lately.
Writing a series of confessions;

Worrying about the loss of "deep literacy";

Listening to Yo-Yo Ma;

Thinking about death and life (I know); and

Reading Marilynne Robinson and Wendell Berry and Dr. Seuss.
---
1. Can we celebrate parts of the lockdown?
I've written five confessions. I'm calling them confessions, but you could just as easily call them prayers. Meditations, maybe. They're the basis for a series of videos — ahem, minifilms. They're about the coronavirus pandemic, and I write each from the imagined experience of a different person. Though I don't necessarily fit any of the personae exactly, they each birth from my lockdown life in one way or another.
This one, which seems both the more common and the more complex, comes from the perspective of a stay-at-home parent:
Father in heaven,

I celebrate the unexpected blessings brought on from the lockdown.

I praise you that amid mass losses around me, you allow me small pleasures, conveniences such as markets tailored to keeping babies in car seats. And I celebrate how communities and companies are joining together to make services both safe and accessible.  

Still, I confess impatience and frustration with the gifts you give, with family, with the place I live, and with the places I can't. 

I confess guilt for enjoying what for many has brought trauma and tragedy. Help me to embrace blessings and sew gratitude, while learning to suffer with those who suffer. 

I do lament the loss of lives and livelihoods. For friends and family and neighbors who are out of work, and whose prospects are dire. 

I lament the shuttering of churches, of ministers who will go without pay, and faith communities that go unnourished in time of spiritual drought.

I thank you for the steadying presence of family, and for family bonds strengthened. I thank you for a home in which to shelter and for access to the things we need. Thank you for the tasks I used to find mundane but now seem loaded with hope. 

You are the God who heals. Heal us now.
I'll link to the series when it's available.
---
2. Reading, not just scrolling, is good for you — and everyone.
If you've talked to me at all in the past three or four years, you've heard me bemoan the proliferation of hand-held tech and the relentlessness of the distractions they catapult at us. I feel the effects deeply. At the beginning of 2018, I got off social media (I still login into Twitter to check DMs about once every six months), and it helped. I don't even try to multitask. But I still find ways to distract myself — treating minutes more like calories than nonrefundable ingredients of my only life.
That's why this piece in the spring issue of National Affairs haunts me and has for a couple of weeks now. It's not exactly about tech addiction or social media, though they're part of the equation. The article, "The Erosion of Deep Literary," is about reading — the engaged kind of reading Maryanne Wolf calls "deep literacy" — and its effects on our brains and on our lives. If you're like me, you've noticed how the notificationization of our daily lives fragments your concentration and stilts your flow of thought. Of course, the studies documenting this phenomenon are legion. At stake is more than productivity. Professor-editor-historian Adam Garfinkle writes:
If you do not deep read, you do not cultivate a capacity to think, imagine, and create; you therefore may not realize that anything more satisfying than a video game even exists. Fully immerse yourself in digital "life," and timelines will flatten into unconnected dots, rendering a person present-oriented and unable to either remember or plan well. That permanently "zoned out" person will become easy prey for the next demagogue with an attractive promise and a mesmerizing spectacle.

…

In science fiction, the typical worry is that machines will become human-like; the more pressing problem now is that, through the thinning out of our interactions, humans are becoming machine-like. 
The argument is a bit heady and technical, I know. And, like Wolf's books on the science of reading, this article takes a while to read. But the implications of deep literacy are as practical as they are empirical. Do yourself, your family, and your neighbors a favor and read the whole argument. Then burn your phone.
---
3. Yo-Yo Ma plays Bach at 4 o'clock in the mornings.
To me at least. I write, when I'm at my best, in the early mornings. And for the past week or so, I've done so with Yo-Yo Ma as a soundtrack. Why? Not sure. I basically forgot about him for like 10 years, and then all of a sudden I wondered if his version of Bach's prelude to suite no. 1 might set a good tone. And, for now, it does.
Here's Ma's Tiny Desk Concert:
I've also been playing Young the Giant's Darkest Shade of Blue on repeat, and I've developed a moderately embarrassing infatuation with Scary Pockets' funk covers. ¯\_(ツ)_/¯
---
4. Death lingers almost everywhere right now.
This isn't an item, per se. Just a thought.
I don't need to tell you that there's a suffocating amount of death around us. More than 100,000 people have died from COVID-19. Did you see these photos of morgue trucks in New York? Grotesquely mundane. Added, two weeks ago was the one-year anniversary of my cousin's death, a 33-year-old who died after a five-year war with some mysterious thing called nonalcoholic cirrhosis of the liver. Last week, I attended the funeral of an 18-month-old.
Yet, for a different but equally proximate group, this is a summer of love. Before the pandemic sidelined pretty much everything, Hannah and I had plans to attend or participate in five weddings this summer (almost like we're in our 20s again). Friends. Cousins. Siblings (in-law). The venues and formats have changed, but so far everyone is still marrying. Some of our closest friends are expecting babies in the next few weeks.
And so our conversations, our tones and our moods, have been an olympic ping-pong match between ends and beginnings, sorrow and cheer. Is this mere chaos? I don't think so, though it often feels that way, and heavily. Because I am grateful that a distinct theme unites the shattered and the rejoicing. One of presence, sacrifice, resolve. Love.
---
5.
Here's (some of) what I've been reading.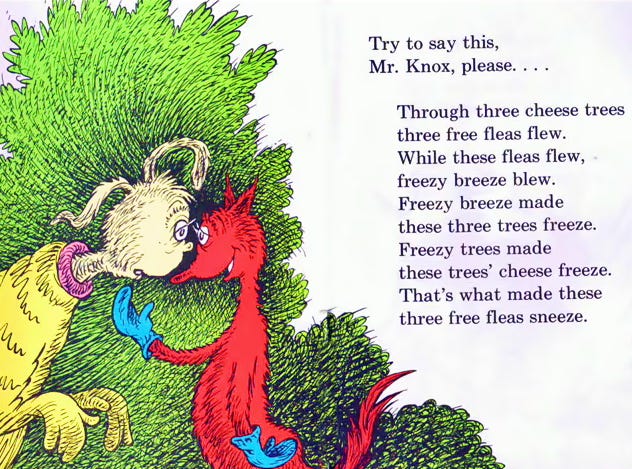 Fox in Socks. I noted last time how much I enjoy reading children's books (to my children). A few nights ago we did a Dr. Suess-a-poloosa, and the story I enjoyed most was Fox in Socks. I'm sure I'd read it before, but I didn't remember it. It's typical Dr. Suess, but like 100 pages longer than you would expect. And, no lie, my tongue was a little numb after reading it.

Essays. More and more, I feel essay is the form where I belong. And, belong or not, I enjoy it. Last year, I read Vivian Gornick's legendary The Situation and the Story for the first time, and since then I've had various collections of essays waiting on my nightstand. During the past few weeks, I've opened these two regularly:

Sex, Economy, Freedom & Community. This collection has floated around the house since the beginning of our marriage, and I occasionally read selections from it. This time around, I've been reading and re-reading the preface, which he calls "The Joy of Sales Resistance." I'm sure it resonated in the early 90s, but it seems doubly profound now.

And, yes, American Dirt. But, no, I'm not finished yet.
---
See you July, people. Take care.