Issue 1 | My Kids Don't Social Distance.
An essay about parenting, writer mistakes, and more.
Good morning, y'all.
I hope you're healthy and stable. What a year so far.
Here are five things I've been doing lately:
Writing an essay about parenting under shelter in place orders;

Giving a talk at a writer's conference (spoiler: the talk was about writing);

Editing a new issue of Common Good magazine;

Reflecting on a few books I've read lately; and

Planning a new podcast.
---
1. My kids don't social distance.
Earlier this month, I published an essay with my friends at Made to Flourish about what seems to be the most common reality of social distancing, namely that it's hyper-social and involves almost no distance. Like everything written during the coronavirus outbreak, parts already seem outdated; but I hope my thesis applies as long as most of us are working, and everything elseing, from home.
Here's part of it:
To millions of Americans, the term "distancing" feels ironic. Because many of us actually arrive at each day with decidedly less space between us and other people, the other people who occupy our homes. Our children, on one hand, represent the great coronavirus quandary. And on the other, they're the means by which we can survive — and the reason we must.

…

You might think this kind of talk is a little lofty for what amounts to a lot of PBS Kids and board books. Hours of video games and maybe some spring cleaning. But when we talk about children we're talking about the future, theirs and ours. And when we talk about joy, we're talking about something bigger than all of us. Haven't you noticed the odd language we use to talk about joy? "Found joy." "Brings joy." It's like we instinctively acknowledge that joy isn't transactional and it's not inherent. It's external and a bit mysterious, and it grows.

Right now, our homes are like gardens in which tasks are mainly boring, dirty, and too slow to seem like anything but a distraction. Cultivation takes time and presence, neither of which were often available three weeks ago. Yet in the work, if it's good, there is an unspeakable depth — joy — that animates the stuff we otherwise view as mundane. And in the future, the fruit of that work ends up feeding us with a nourishment both physical and spiritual.

We're right to long for the post-outbreak world. For a vaccine. For herd immunity. For economic stability. But there's an insidious temptation to accept the idea that we're in a cultural hiatus, a purgatory, and that "normal" will mean breaking away from our homes. For about 80 million Americans who, like me, are sheltering in a place full of children, meaningful work continues. And it gives us a chance to cultivate the future, like a garden, instead of just worrying about it. And to find joy along the distracting, uncomfortable, uncertain, and long road to get there.
Read the whole thing, if you like. It's the second I've written at MTF about social distancing. The first is here. I hope to write some more, too. Specifically, I've been wondering about the effects of the pandemic on our relationships with the digital world. Hopefully, I'll have more on that next time.
---
2. Would-be writers make two big mistakes.
In March, I spoke at the HopeWords Writer's Conference in Bluefield, West Virginia. I wish, in some ways, there were a video I could share with you. In other ways, I appreciate that to get the sessions, you just had to be there. Far too many places, I think, overvalue information transferal at the expense of presence.
My talk was about writing, of course, and from a sharply practical perspective. I shared a lot of info, but my talk organized around a pretty simple idea. The would-be writers I encounter — which is a lot — consistently make two big, tightly intertwined mistakes. Here's the part of my MS where I start talking about the solution(s):
The two biggest mistakes aspiring writers make are: 

Worrying too much about the things that go with writing; and

Worrying too little about the writing itself. 

If anyone outside your home or your Facebook page is ever going to see your writing, you've got to give attention to the logistical, even businessy parts of it. But often these things distract from actual writing and become just another form of procrastination. 

So what is the solution?

Prioritize your actual writing and address the distribution and logistical and technical and preferential issues as they come up. Stated positively, and put in proper order, that means:

Care more about your writing itself; and 

Care appropriately about the things that go along with writing. 
---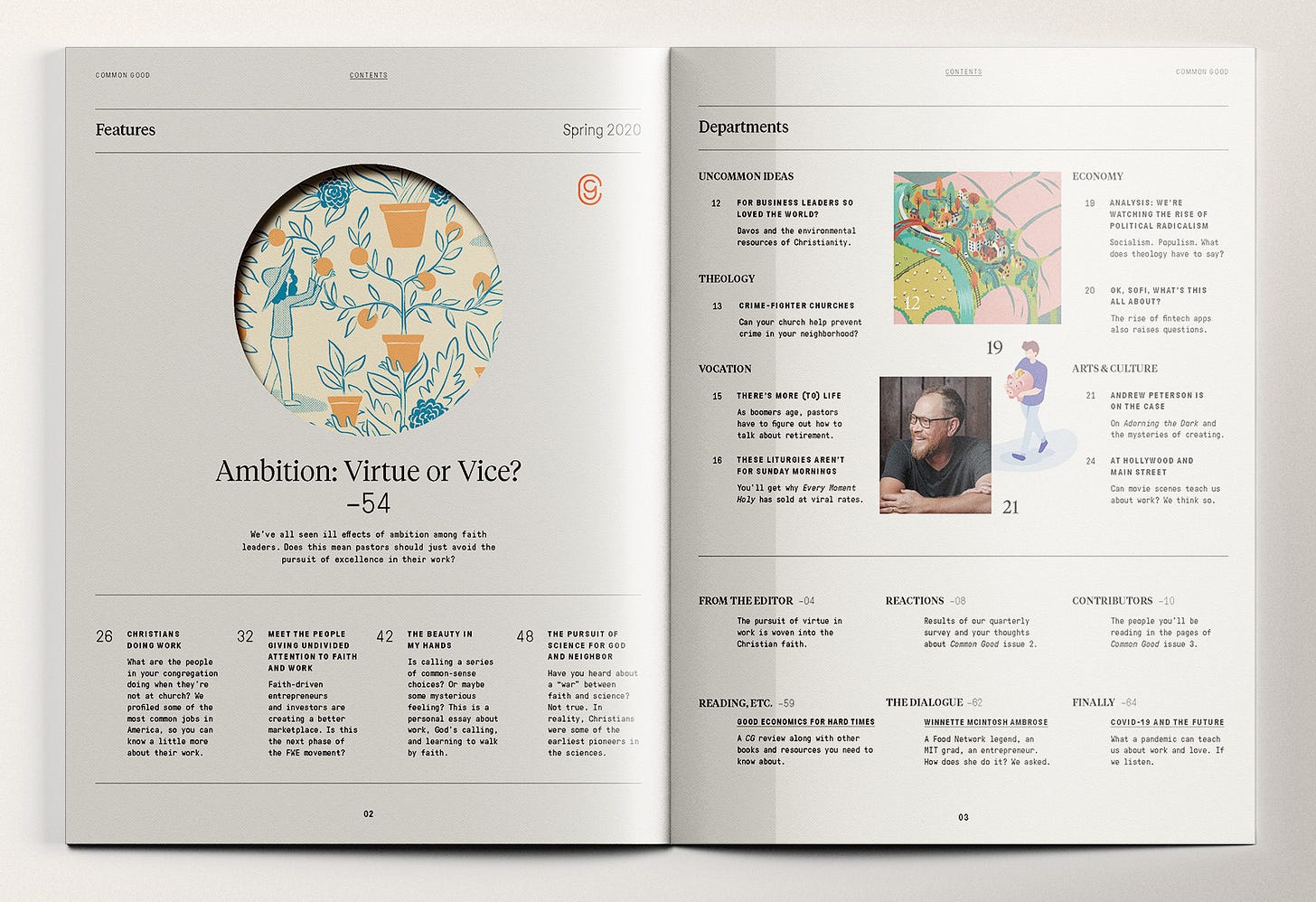 3. Issue 3 of
Common Good
magazine just hit mailboxes.
Some of you know, I've worked since early last year to help launch a new magazine about faith and work. In the middle of April, we published the third issue of Common Good. Above is the table of contents so you can see what we put together.
---
4. Here's (some of) what I've been reading.
Remembering. I finished this one two or three weeks ago, and it lingers. Especially passages like this one about the main character's marriage:

It was as though grace and peace were bestowed on them out of the sanctity of marriage itself, which simply furnished them to one another, free and sufficient as rain to leaf. It was as if they were not making marriage but being made by it, and, while it held them, time and their lives flowed over them, like swift water over stones, rubbing them together, grinding off their edges, making them fit together, fit to be together, in the only way that fragments can be rejoined. And though Andy did not understand this, and though he suffered from it, he trusted it and rejoiced in it.

American Dirt. The story moves pretty fast, but I'm reading it pretty slow. The near-outrageous hype about the book probably oversold it, then the controversy just added some meh. I don't know.

For the Life of the World. This book feels like what it is: a proposal by academic theologians about academic theology for academic theologians. But it's not stiff and actually is pretty energetic.

So many Sandra Boynton books. And they're all awesome. I was just telling a friend: One of the unexpected but invaluable surprises of reading to toddlers has been my rediscovery of the delight of wordplay. Related, a few months ago the Atlantic published a piece about Boynton that's totally worth your time.
---
5. 📻 In my head, that's the emoji for a podcast.
Because, as some of you know, I'm working on a podcast. I'm partnering with a podcast company I really like, and I'm excited to get this thing going. Predictably, the whole COVID-19 thing is really slowing down our plans. But I hope to launch several episodes this summer or, if I have to, early fall. I'll let you know how it's coming along. Stay tuned. As in, tuned in. Like radio. Because radio is kind of like podcasts.
---
A note about this newsletter:
For me, this is about the work of words. Not curation or tastemaking or whatever. Instead, I want to share a little of my work and thought processes with you in hopes we can engage it together — without subjecting either of us to the outrage and pompery of social media.
Each month, when my newsletter lands in your inbox, you can expect excerpts and links to any recent work, updates on writing projects (maybe some more excerpts, too), thoughts on what I'm reading or doing, and pretty much anything else I find interesting.
What can you do? Write back, think along with me, and share Five Things with anyone who you think might like it.